The Translife Community Conference brings together transgender and gender-expansive individuals from the North Bay counties to increase connections, share information, and expand individual self-advocacy and knowledge.

Each year, representatives from multiple organizations are in attendance to share information on the social, legal, economic, and health services available to the community, and to provide hands-on resources that can be put to use right away. Additionally, the conference provides some fun social and networking opportunities geared specifically to the transgender and gender-expansive community!
---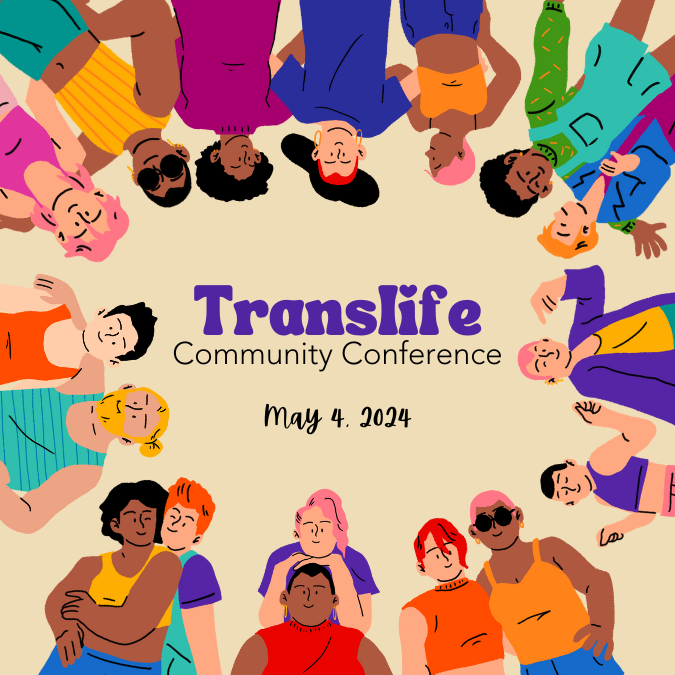 Translife Community Conference

Saturday, May 4, 2024
We are extremely excited to announce the date of our next conference! The Translife Community Conference will take place on Saturday, May 4, 2023 at Finley Community Center in Santa Rosa, CA. This event is for the transgender and gender-expansive community and their parents and/or partners only. It is not an ally event.
Email info@translifecommunity.org for more information.
---
Who Should Attend?
The Translife Community Conference is an inclusive space for anyone on the transgender/gender-expansive spectrum. This includes, but is not limited to, individuals who identify as transgender, binary, non-binary, genderfluid, agender, gender-expansive, two-spirit genders, and those questioning. We welcome you wherever you are in your journey!
This conference is specifically geared to the transgender/gender-expansive community and is not an allies event. Participants are welcome to bring a partner, child, family member, or friend for support. Support guests are not able to attend every workshop, as some are transgender/gender-expansive only spaces, but there will be an alternate workshop open to them in every time slot.
There will be no services for professionals or non-support allies at this conference. Professionals and allies not directly connected to a participant are advised to attend the Professional Symposium.